Please make sure to register for all EXPO Courses before attending the course the day of the EXPO.
How to access AYSOU powered by eTrainU:
1.  Go to the Region's Sports Connect portal where you registered as a volunteer.
2.  Click on the volunteer tab on the left-hand side of the screen.
3.  Click on the AYSOU button to access all the training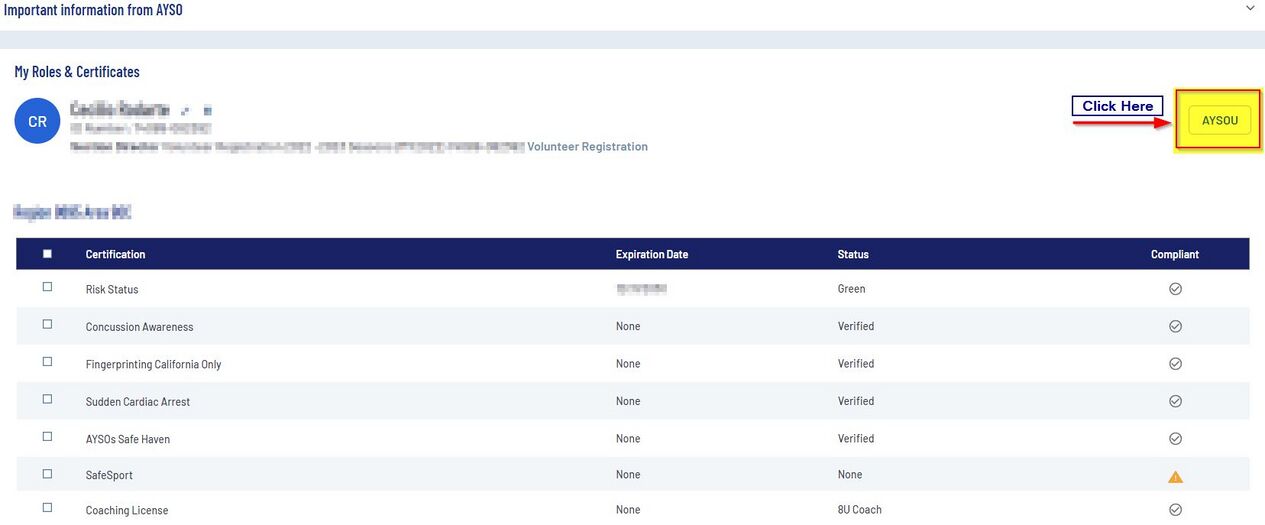 4.  Click on the Training Event tab on the left-hand side menu
a)   Remove Region filters if there is one there
b)   Find the Date of the course on the calendar
c)   Find the course and click on the Course
5.    Make sure it is the correct session (Time, Date, Instructor)
a)   Click Enroll
FAQs
Courses
All registered AYSO volunteers can access AYSOU powered by etrainu, by logging into to their home Region AYSO registration site and connecting to AYSOU from their volunteer profile or their Region's website.
Using the Training Event Calendar, locate the EXPO course/workshop by Date, Location, Course and enroll in the course. Volunteers who do not pre-register (enroll) will be required to enroll online when they enter the class. Volunteers must also sign the course roster to confirm their attendance.
Anyone who does not register or attend the full class, will not be given course credit. Course credit, either continuing education credit or job training certification, will be given for all EXPO workshops.
Instructors need to create a course in-person session/event for the EXPO in AYSOU as soon as registration is open for the EXPO. This will allow volunteers to pre-register and reserve their spot. It also helps ensure that appropriate space and instructors are allocated to the course.
When setting up EXPO workshops, it is recommended that multiple instructors are assigned to each workshop so that they can support attendees registering for the course, signing the roster to confirm attendance and to complete any assessments.
For each course in-person session, there will be one event set up in AYSOU (etrainu) Assessing App, where all volunteers will register. The instructor(s) will be responsible to mark off each assessment item (required component) for each confirmed attendee on the roster. At the end of assessments, the instructor(s) are responsible for closing the event, which pushes the completion data to the LMS where the volunteer can retrieve a certificate of completion and an updated Skills Passport.